Mini-ITX Technology Overview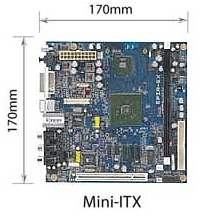 Mini-ITX – The alternative off-the-shelf
Embedded systems produced in low volumes, perhaps no more than a couple of hundreds a year, most often cannot be developed based on custom design computer boards or even the semi-custom strategy based on a standard COM module on a customized carrier board. The production unit cost and the NRE (Non Recurring Engineering) cost per unit will simply be too high.
 In these cases an option to consider is to use an off-the-shelf computer board and develop the more unique product features in software. A Mini-ITX motherboard is such an option. Mini-ITX is a small, 17 cm x 17 cm, form factor for motherboards for a wide variety of applications. And some possibilities still exist to adapt the hardware.
Numerous Mini-ITX motherboards for consumer orientated use are on the market but there are also products out there meeting the requirements from industrial customers. Hectronic offers a range of Mini-ITX motherboards with revision control and the longer product life time that are vital to embedded applications. These industrial Mini-ITX motherboards also offer more of the type of functionality and interfaces needed in industrial applications such as additional serial ports or LVDS interface for displays.
In some applications a Mini-ITX motherboard will be enough to meet the requirements. In many cases an off-the-shelf or custom design expansion card with functionality and interfaces unique to the product is added. For example a PCIe or mini PCIe slot, a USB or a serial port are options to connect additional expansion cards.
Advantages from large volumes
Mini-ITX can be considered a replacement and an alternative to for example 3.5 inch and 5.25 inch single board computers as well as older form factor boards such as EPIC and EBX. Other form factors that offer similar properties in the industrial segment are ATX and microATX. These are two form factors which are bigger than Mini-ITX in physical dimensions and are often used in industrial applications like 19 inch rackmount Industrial PCs.
Industrial Mini-ITX motherboards draw advantage from being used in many applications, some of them high-volume such as ATMs, information kiosks and gaming. This means that even low volume embedded systems may benefit from a cost-effective Mini-ITX motherboard, since the overall production volume of the board is large. It also means that where a Mini-ITX solves all the requirements, it will always be the most cost-effective design approach in all volumes. If requirements are more complex, a carrier board for a COM module or a full-custom board will be a better solution for mid-size volumes and up.
Kick-start development using standard cabinets
Development based on Mini-ITX motherboards (and all other Commercial off-the-shelf, COTS computer boards) are likely to bring the product to the market faster. The hardware development, if any, can be kept at a minimum and the board is already developed, validated and in production.
There is a possibility to begin product development instantly based on the Mini-ITX motherboard using a standard cabinet and power supply. The mounting holes on the Mini-ITX board are placed to match the ATX specification, a common specification for stationary home and office computers. The location of the back plate and the PCI slot are also identical. With the board mounted in a standard cabinet the development of mechanics, enclosure and cables can be performed in parallel with product software development.
Hectronic offers a large range of Mini-ITX motherboards in our product portfolio. There are processor platform alternatives in variety of performance levels and types. Let's take a closer look at two examples from the list of Mini-ITX motherboards to illustrate the range of options.